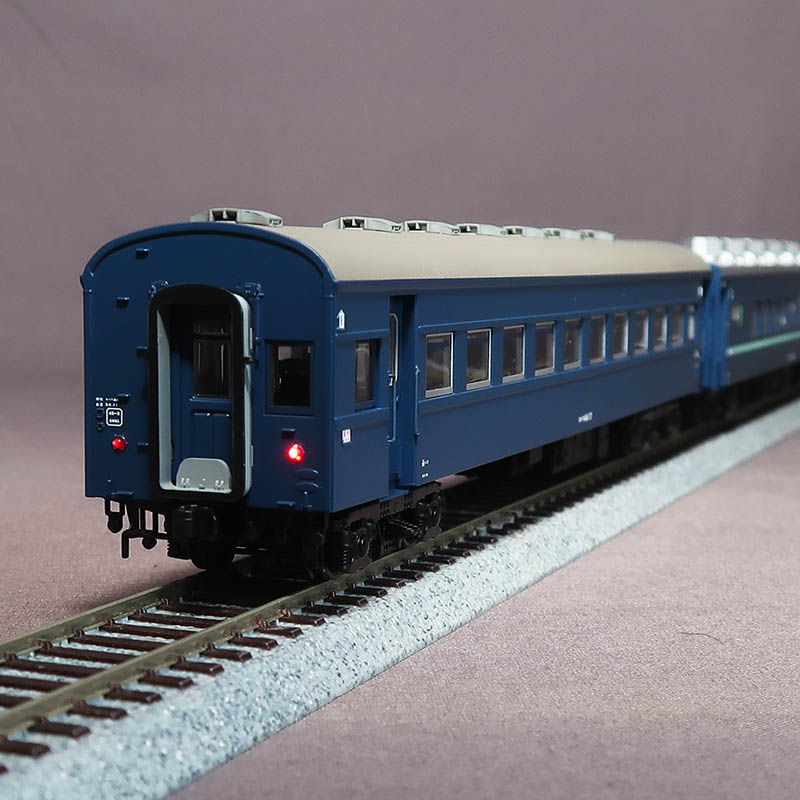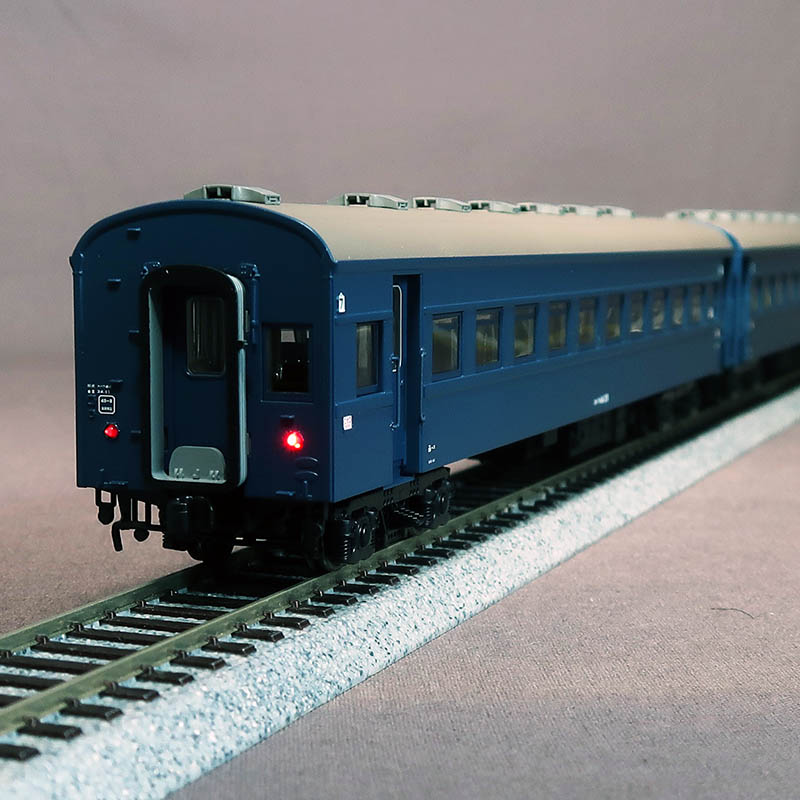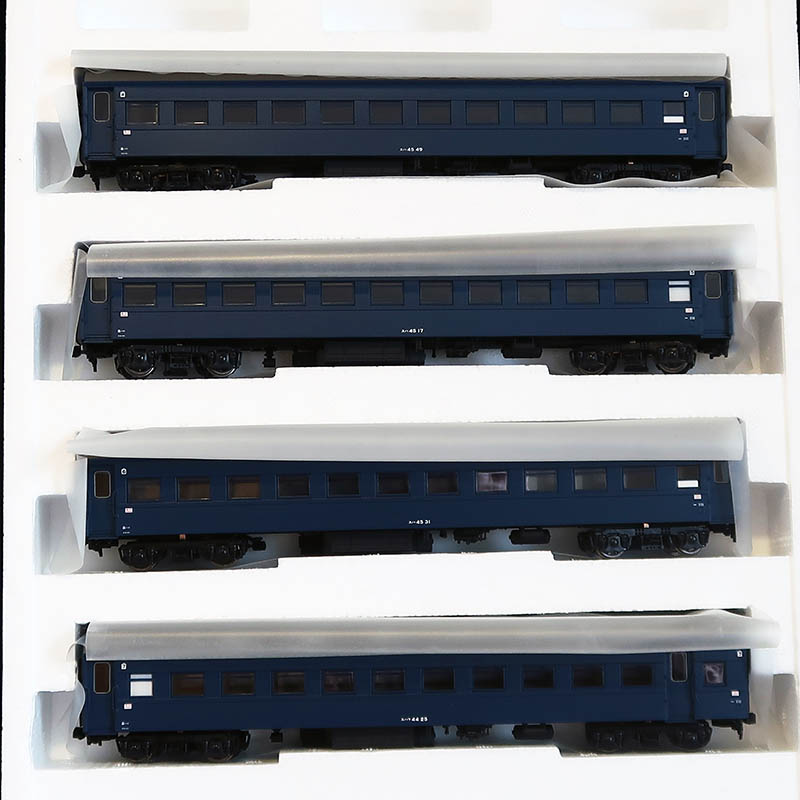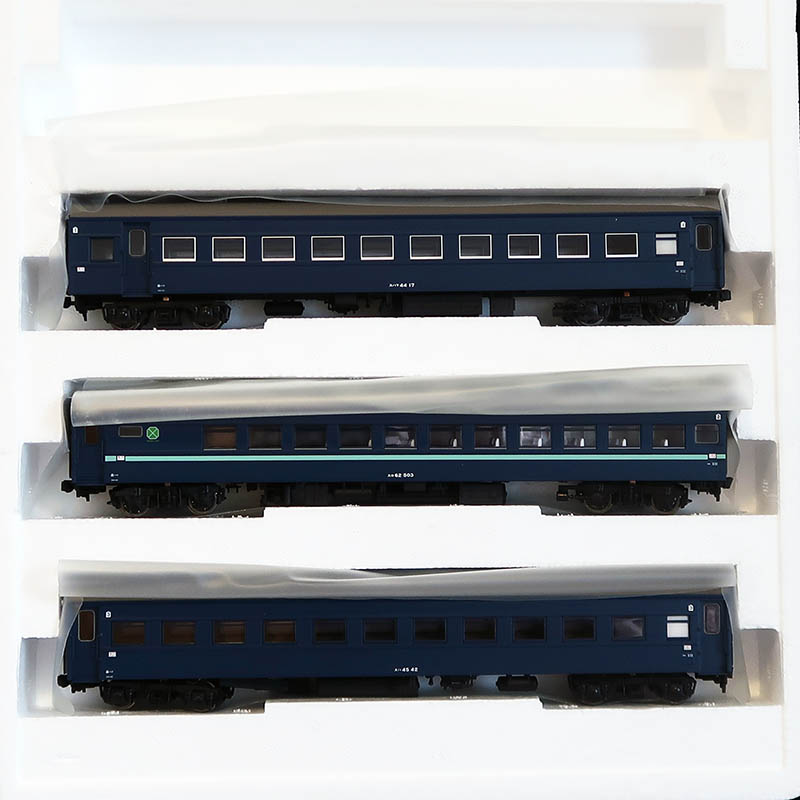 (#57039) JNR Express Niseko
---
Normal Price : ¥ 78,000 JPY
¥ 74,100 JPY
Item Code: Tenshodo #57039
Weigh : 3100 g
ItemNumber #570239
JNR Express Niseko
7Cars Set

Information
In October 1968, JNR revised the nationwide large-scale blank schedule called Yongsantoo. Among them, "Niseko Niseko 3.1 (103 · 104)", which was connected to the Sakaikan-Sapporo via the "Yama Line", which is commonly known as the Omanaru main part of the Sakaikan Main Line and Otaru, was born. The passenger train express train "Tane", the predecessor of "Express Niseko 3.1", has been integrated into the name "Niseko".

"Niseko No. 3 (103)" and "Niseko No. 1" (104)) operated by passenger trains undergo six grades of Suha 45 and Suhafu 44 and Sulo 62 in later years. It was organized with seven basic vehicles consisting of one green car that was used for the 500th generation (in some cases, the number of cars increased or decreased). In order to run through extremely cold Hokkaido, the 43-type cold-resistant type equipped with double-structure guest room windows, gear-type axle generators, and large storage battery boxes were used. In later years, there are various variations such as cabin windows, conductor window windows, toilet / washroom windows, etc. due to modification and repair.

This 7-car train is connected to a postal car and a luggage car that connects Honshu and Hokkaido via the Seikan route. In Niseko 3 (103), the rear of the train is in the order of Mani + Oyu + Mani + Mani In "Niseko No. 1 (104 Le)", it seems that there were many cases where Oyu + Suyu were connected between the locomotive and the passenger car in this order. This played a major role not only in passengers but also in mail and luggage transportation.

Tow was in charge of the O62-Otaru Port C62 type (Tsukikan-Omanmanbe is a single machine, Omantobe-Otaru is a ream), and Otaru-Sapporo was in charge of ED76 type 500 of Iwamizawa No. 2 .

The "Express Niseko 3.1" was made famous by the operation of the C62 type heavy trains in the "Yama Line" from the Omanaru Omanaru Kanjo Main Line. In addition to the SL boom from time to time and the last express train for towing steam locomotives, it was very popular due to its C62 series.

Although it was an `` Express Niseko '' that gained its name with the C62 type heavy chain, the towing of the C62 type is scheduled on July 18th, August 22nd, 1971 (triple year 46), with the triple operation on September 15th It is out of operation and has been replaced with DD51 type doubles in Otaru Chikko Port and Goryokaku. The Niseko train was abolished in 1980, but in February 1981, the passenger train continued to pass baton from the 43 series to the 14 series 500 series. This was due to the role of linking postal and luggage vehicles from Honshu, but in 1986 (Showa 61), with the abolition of postal / luggage transportation by JNR, the train itself was downgraded to a temporary train. Regular operation has been completed.

The "Express Niseko" led by the C62 series will be handed down forever among railway fans.